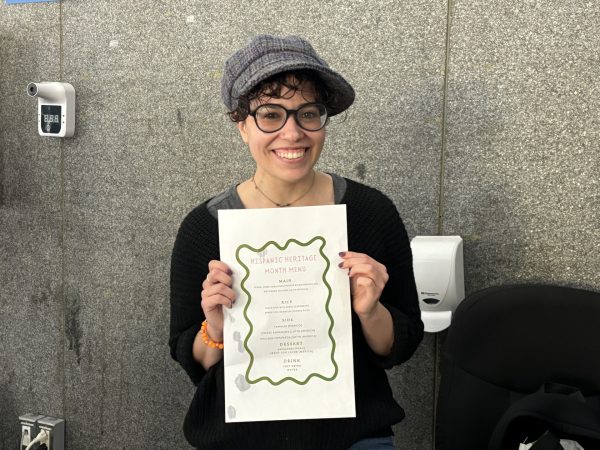 Leadership & Public Service High School's student government hosted its annual Hispanic Heritage Month Celebration with a themed luncheon in the school lobby.
While music played, $5 To-Go plates with authentic Hispanic foods, flew off the tables. The selection of plates included tamales, pernil, pupusas, empanadas, roasted chicken, and an assortment of rice and desserts. Hispanic Heritage Month, taking place between Sept. 15 and Oct. 15 celebrates the history, cultures, and contributions of people with Latino backgrounds.  62% of Leadership's student body is Hispanic.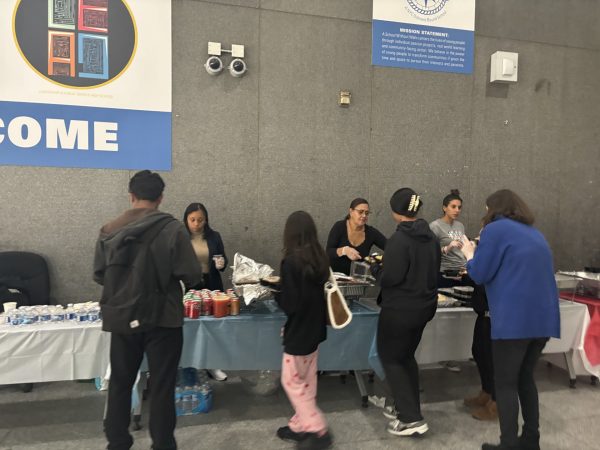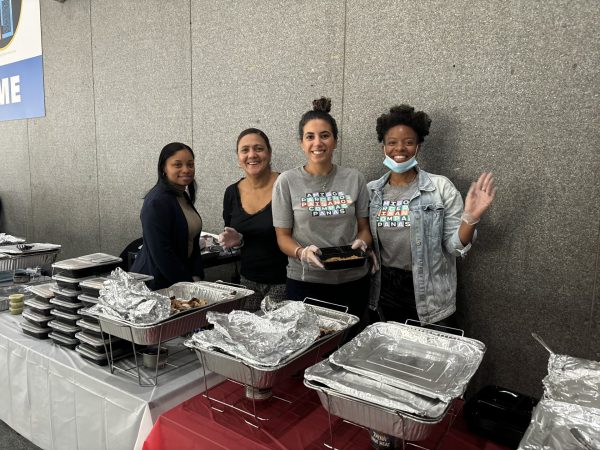 According to the Pew Research Center, National Hispanic Heritage Month was started in 1968 by Congress as Hispanic Heritage Week. It was extended to a month in 1988 by President Reagan. The celebration coincides with independence days in Guatemala, Honduras, El Salvador, Nicaragua, Costa Rica,  Chile, and Belize.  Each country is represented in Leadership. Daphne Franco, a junior, said " I found the Hispanic Heritage celebration really nice because I was able to see all the diverse backgrounds and cultures through the food they made. Since our schools' student population is made up of Hispanics, by doing this celebration, I think we were recognized." 
Food is at the heart of Hispanic culture, with recipes that have been passed down through generations.  Meals symbolize the migration of Latino people from their homelands to new lands.  Adaptation to their new environments often led to changes in recipes. 
Tatiana Jara, a junior, said " I loved the celebration because it was very educational. The choices in the menu were amazing and it taught me about foods from South America." This year's menu included tamales, a traditional food consisting of a corn-based dough mixture, known as masa, filled with pork, chicken, or cheese that is wrapped with a corn husk. Tamales are steamed in a pot, typically for an hour and a half. Native to Mesoamerica, tamales stretch back to pre-colonial times.  
Pernil is also a favorite.  Pernil is a slow-roasted marinated pork leg or shoulder. Pernil is served with yellow rice and pigeon peas, roasted vegetables, and mashed potatoes. Pernil is a classic Puerto Rican dish but it is also made throughout Latin America. Its origin goes back to Spain.
As a dessert, the community enjoyed Alfajores, a complex dessert representing yet another layer of Hispanic Heritage.  Alfajores are confections typically made of flour, honey, and nuts. It is evidence of the Arab influence in Spain going back as far as the 8th century. Today, Alfajores are enjoyed across South America, especially in Peru, Argentina, and Uruguay. 
A junior who asked to remain anonymous shared, " I really like the concept of the celebration, it provides representation for Hispanic culture but I think it would also be fun to do more such as watching a movie or something."   Student government plans a different program every year so showing a film is a definite possibility.
Special thanks to the parents, students, and staff members for their contributions.